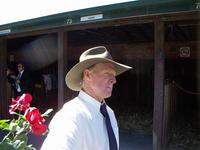 Austy Coffey
Austy Coffey, is described as a man with attention to detail with a relaxed hands on approach. A qualified practicing farrier with a special understanding of the animal he has worked with for so many years, it was the 80's that he decided to try his hand at training.
Austy has a passion for horses, and believes there is "nothing better than seeing a yearling go all the way to winning races". His training style is hands-on, relaxed and attention to detail.
Establishing his stables in the late 80's, with exceptional facilities including an 8 horse barn, 15 day yards under cover, use of a pool, walker, bull ring, sand roll, sand and grass tracks at the Swan Hill track.
His career highlights incorporate Harryallards Lane winning at Flemington in September 05 and then the following start running 5th in the Duty Free Listed race at Caulfield.
He trained a treble at the Swan Hill Carnival in June 2010, a thrill being in his home town.
New Years Day, 2011 saw Austy win the Marma Cup at Murtoa with "The Ruckman", a special one as the horse was plagued with injury and to come back to win gallantly was "just fantastic"
There is little doubt that after 20 years in the game, this stable is racing better than ever.